Before You Ink...
---
Okay, before we discuss your first tattoo (or before you ink again?), let's get some perspective...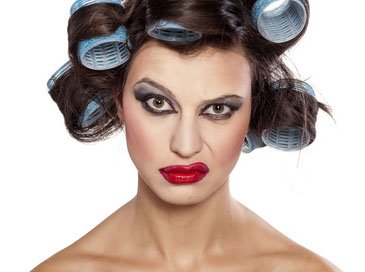 "Hey, check out my RAD curlers!"
Have you ever looked back at your school pictures and cringed at the clothes you were wearing? What about the hair styles? For me, it was bell-bottoms and feathered mullets; for the girls, it was shoulder pads and "big hair."
(For a quick chuckle, check out these Google results on Celebrity Yearbook Photos).
Believe it or not, in 10 or 20 years you will look at some photos of yourself TODAY and have much the same reaction! We tend to look at ourselves in the "now" and not so much in the future...it's just human nature.
Of course, the great thing about our hair styles and fashion choices is that they continue to change with us.
But what about our permanent choices? Without some reasonable planning first, there is a good chance that you will eventually have some regrets over this first tattoo.
Obviously, you can't change the past, but if you plan now – before your first tattoo – you can reduce or even avoid your regrets later.
BEFORE YOU BEGIN - Check out What are the Health Risks of Tattoos? It only makes sense to go into this with your eyes WIDE OPEN, so you should know the risks and how to avoid them up front.
Okay...and now you can get started...
---
Here is where you start...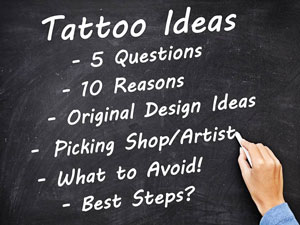 The links below will take you to pages that will help you start this journey. Some are simple exercises, while others are simply intended to provide perspective and information.

Take a few minutes and look these over. If you think you will find them useful, do the drills as well. Hey, if nothing else, you will have taken that next step!
---
Read and Heed...BEFORE You Ink
BEFORE Your First Tattoo - Five Questions for You:  Okay, just ask yourself these FIVE SIMPLE QUESTIONS before that first tattoo. With a little planning and insight now, you can avoid those post-ink regrets!

TOP 10 Reasons to Tattoo:  Ever wonder why people get tattoos? For better or worse, we've all got our reasons. To help you Think Before You Ink, why not look at the Top 10 Reasons to Tattoo
ORIGINAL Tattoo Design Ideas...How to Make It Unique:  For truly unique Tattoo Design Ideas, all you need is a system! Here are some tips on how to put your first (or next?) ink in a class that is all its own!
Find the RIGHT Tattoo Shop & Tattoo Artist:  Whether you call it a Tattoo Shop or a Tattoo Studio, finding the RIGHT ONE is essential. Then, it's time to find the right Tattoo Artist at that fine establishment to make your dreams come true.
What to DEFINITELY Avoid!:  Getting your First Ink can be like walking through a minefield if you don't know what to avoid. Bad tattoos are usually the result of bad planning.

What are the Best Steps?:  As with anything important in life, getting a tattoo requires not only patience and planning, but there are optimal tattoo steps you should demand and expect.
---
Hey Tattoo Fans!

If this feels like your kind of place, why not bookmark my Home Page and come back for a visit again soon?
Also, links to my new or updated pages are always included in the Blog Page... come on over to Getting a Tattoo - So What's New? 
Social Media and RSS users, see below!