Tattoo Steps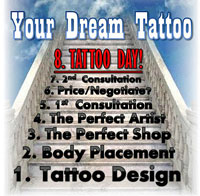 Okay, RECAP TIME!
So...hopefully you've read over all of the preceding pages listed (linked) in the Before You Ink section?
Have you also completed the questionnaire and exercise found on the Your First Tattoo - 5 Qs page?
And did you look over the Top 10 Reasons to Tattoo and the Find a Great Shop/Artist pages? If you did, then you've made it through these first four steps in your journey to that "Dream Tattoo:"
Step #1: Tattoo Design
Step #2: Body Placement
Step #3: The Perfect Shop
Step #4: The Perfect Artist
Hopefully, you also read Get an Original Design and What to Definitely Avoid.
Consider that following these steps is the better option to giving in to that temptation to just walk into a tattoo shop, pick a design off the wall and settle for the next available artist.
Hey, this ain't fast food or a quick trim!
---
Step #5:
1st Consultation - "Here's what I want..."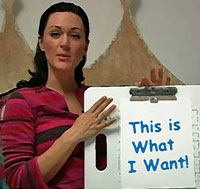 Here you are, meeting with that perfect artist that you've identified through your research. NOW you are ready to get down to brass tacks!
When you first meet, if you or your artist don't have time to iron out specifics right then and there, make sure to schedule that first design meeting. 
---
NOTE: Other than maybe asking about the shop's standard hourly fee, don't get into pricing/estimates just yet...best to wait until you BOTH know what you're getting into.
---
But, just in case the tattoo artist may be able to hash this out with you on your very first visit, make sure you are prepared for that when you first walk in the door...and it's best to have your design ideas already pretty much decided going in.
Bring photocopies of whatever material you think might be helpful to the artist - photos, paintings, figurines, sketches, prints, examples, blueprints, calligraphy, book graphics, magazine articles or advertisements...whatever. Any graphics or elements from his/her catalog you want to incorporate, now's the time to mention that too.
Provide these materials to the artist, and thoroughly explain what your vision is...and the placement you have in mind. Listen carefully and weigh the artist's opinions and advice - if you did your homework on the shop/artist, then his/her advice should carry plenty of weight and he/she will probably have some great ideas that didn't occur to you. 
Once you have come to a general consensus, ask the artist to draw up his/her idea(s) and make an appointment for your review/approval of the drawing(s). This can take several days...or even weeks (hey, the best artists are busy people!).
---
Step #6:
Price/Negotiate - "What's it gonna cost?"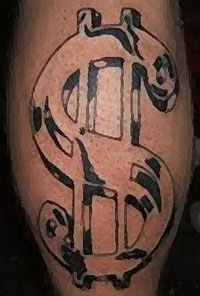 At this point, not only will you need to get an idea of pricing (by the hour price with an estimate of the time-frame, or a straight-up estimate of the whole job), but under certain circumstances it is also okay to ask politely if they can work with you on the pricing of the project.
For more on this, go to the Tattoo Etiquette page.
But let's face it - if you find that you don't like the price/estimate for the work, now is one of those times you'll need to make the hard choice:
Stay with this artist and "dig deep" in your pockets;

Stay with this artist and ask for a less-expensive tattoo; 

Thank him/her and move on to the next shop/artist; or

Reassess how much you really want this ink.
Having said all of that, I hope you consider that first option carefully. As with most any other service or product, when it comes to quality ink you usually get what you pay for. Also, it can't be stated too many times...your tattoo is for life!
---
Step #7:
2nd Consultation - "Wadaya got?"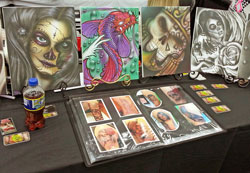 After some days or weeks, depending on the artist's schedule, he/she should have a rough draft of your design prepared for you.
This could be a short meeting if you approve of what the tattoo artist has come up with...or it could be a bit longer if you are not satisfied and need more time to communicate your wishes. If that is the case, not a problem...it's well worth it to be sure. 
If you need the artist to do more drawing, so be it! Or, you may now realize this is NOT the artist for you. Just remember, etiquette pretty much demands at this point that you give them another shot...since they've already invested the time to draw up some ideas. Sometimes it takes another meeting to get it right!
Once you've ironed out the details to your satisfaction, it's time to make the appointment for Tattoo Day! 
---
NOTE:  This second consultation may also turn out to be your Tattoo Day. If so, make sure you are completely satisfied with what the artist has shown you, he/she is on the same page with your vision, and ensure that all of the pricing has been agreed upon by both parties before you proceed.
The artist will likely provide some kind of work order to that effect, with lots more information on the document and a possible (standard) disclaimer for you to sign.  
He/she may also require some proof of identification and age at this point (if they haven't already).
It is also possible that they will require a deposit or full payment in advance. In any case, make sure you get a receipt for ANY monetary transaction!
---
Hey Tattoo Fans!

If this feels like your kind of place, why not bookmark my Home Page and come back for a visit again soon?
Also, links to my new or updated pages are always included in the Blog Page... come on over to Getting a Tattoo - So What's New? 
Social Media and RSS users, see below!