The Henna Tattoo
---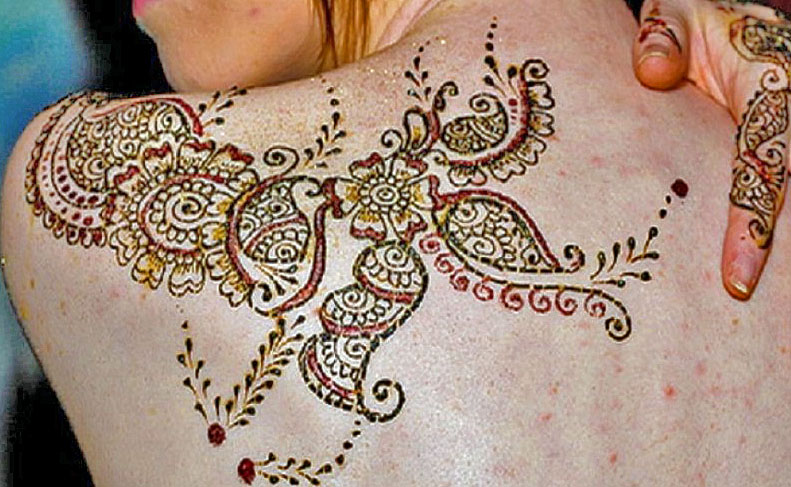 So, what about a "Henna Tattoo?" 
Granted, there are other even more temporary options than Henna that will also avoid that dreaded needle-and-ink tattoo pain. There is body paint (good for a day) and regular pen or marker ink (good for a few days). Maybe these would be fun for a Renaissance Festival or biker club get-together...and perhaps you can see what it feels like to sport art on your skin before you go more permanent? 
Sorry, I digress. Back to the Henna thing.
The weather is getting warmer and the lakes, pools, beaches, fairgrounds, resorts, amusement parks, boats and boardwalks are all beckoning. Each year, as we come out of hibernation and shed more clothing while making our summer escape, we also adorn ourselves with the trappings of the season. For some of us, the temptation also arises to decorate some of our newly exposed skin.
---
Ahhh Summer...
...and the temporary tattoo more popularly known as the "henna tattoo" makes its annual debut. It is the perfect complement to any suntan (and lasts about as long), and there are vendors aplenty who offer a variety of products and designs in some of those warm-weather getaways I mentioned.
(The more permanent and genuine sub-dermal tattoo is also popular this time of year, of course – but unlike the henna tattoo, these remain popular throughout the year.)
I like to take my family to seaside towns on the Eastern Shore of Maryland and Delaware in the summer months. Every day, the boardwalks are flush with these practitioners of the temporary tattoo.
---
"So, what is a henna tattoo?"
Not really a "tattoo" in the purest sense, it is a temporary facsimile. Henna is a reddish-brown coloring agent made from the leaves of a flowering plant by the same name. Its botanical handle is "Lawsonia inermis" and it is the sole species of the Lawsonia genus. The English name "henna" comes from the Arabic word "hina"…and it is also known in the Middle East as "mehndi."
Since the Bronze Age, henna has been used in large areas of Northern Africa and Southern Asia. The leaves of the plant were ground into a paste to make the dye which was used on skin, hair and fingernails. It was even used to dye fabrics; such as silk, wool, and leather. Henna is still used safely in cultural festivities in its native lands and beyond.
Henna tattoos usually last from three days to several weeks – depending on the condition of the skin and the quality of the product used for coloring. The claim to use a henna product for skin design is common and widespread, but you should be aware of some of the risks associated with what passes as a henna tattoo.
---
"What are the risks?"
As mentioned before, henna is traditionally a reddish-brown dye, but the name "Henna" is also deceptively used in other skin and hair dye products, such as "Black Henna" – which may be a mix of henna with other ingredients to create a darker image that lasts longer.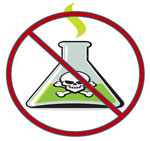 Black henna may be potentially harmful due to the product called coal-hair dye which contains p-phenylenediamine (PPD). PPD can cause serious skin reactions that can, in some cases, outlast the "tattoo" itself.
Complaints to the FDA include redness, blisters, loss of skin pigment, increased sensitivity to sunlight and even some cases of permanent scarring.
The law prohibits PPD in cosmetics applied to the skin, but regulations for temporary tattoos vary from state to state. The best advice is to avoid black henna – or any type of temporary tattoo that is black in color.
Although the FDA is advising specifically against black henna, it's worth pointing out that even traditional henna, as safe as it seems, is still only approved by the FDA for use in hair dyes—not for direct application to the skin.
Maybe you should reconsider the permanent variety? Even if you are just curious about what that entails, why not read up on the actual tattooing procedure?
---
Bottom line...
As with real, permanent tattoos, there are certain risks involved with henna tattooing…and as with all things, a little common sense and caution should be applied. You only live once, so if you're smart about it there's really no reason you shouldn't indulge in a little bit of "temporary tattoo fun" with henna.
For more on Henna Tattoos, check out the Wikipedia page!
---
Hey Tattoo Fans!

If this feels like your kind of place, why not bookmark my Home Page and come back for a visit again soon?
Also, links to my new or updated pages are always included in the Blog Page... come on over to Getting a Tattoo - So What's New? 
Social Media and RSS users, see below!