Latest Tattoo Designs and Trends
Let's face it…it is really hard to not feel compelled by the latest and greatest. Once again referencing the way we have felt looking at our old photos, you know there has got to be some kind of lesson here! With so much to choose from these days, it is hard to imagine that today's cutting edge will look silly or dated in just a few years.
---
Tattoo Art...Meet Fashion Art!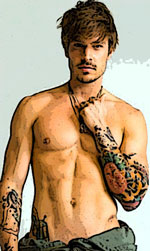 Tattoos have become increasingly elaborate...and the competition between the artists has never been more fierce!
Much like graffiti, which has been transformed from cult to collectible in recent years, tattoos are increasingly being embraced by the art world — particularly in areas where art and fashion meet. 
3D tattoos are all the rage now, but who is to say that will be the case in 10 years?
---
Maybe Original is Better?
As I've said, the best ways to avoid being trendy is to be very original – or go for something timeless. Don't let your reasons to tattoo paint you into a corner!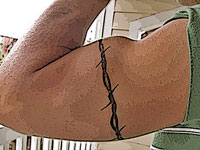 Lots of guys went for that "Barbed Wire" armband look back in the 90's…and thousands have gone back to cover what is now "out of fashion." But, if you want to take chances with your new and cool design, remember that the thicker and darker the lines and fill are, the more limited you will be if you do want to change or cover it later.
---
Hey Tattoo Fans!

If this feels like your kind of place, why not bookmark my Home Page and come back for a visit again soon?
Also, links to my new or updated pages are always included in the Blog Page... come on over to Getting a Tattoo - So What's New? 
Social Media and RSS users, see below!